This blog post is to share some Speed Blogging Tips Structured Blog Post Outline; I will share with you some simple, yet effective Speed Blogging Tips Structured Blog Post Outline!to help you be more effective with the time you spend online!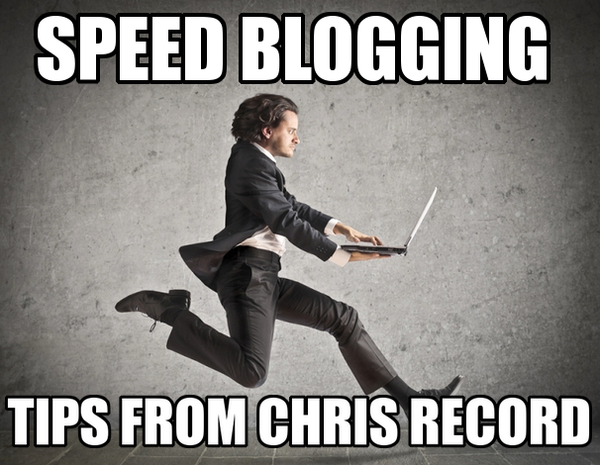 Recently, I was coaching someone on ways to improve their blogging results, by speeding up the time they spend blogging, and by making the posts more effective for social media and more relevant for Google searches.
So I put together some of the notes from that coaching session, and decided to share them with you in today's training email.
Here are the tips for Speed Blogging Tips Structured Blog Post Outline!
Okay, now before we jump into the training there is something that you should first understand.
There are
MANY
different ways to blog!
I am sharing this strategy with you because there are many of you that are not getting the results that you deserve, so perhaps if you try strategies like this, then you will start getting better results.
The summarized version of this post is that you should break down your topics into LISTS, especially numbered lists.
Like,

11 ways

to do this, or

21 ways

to do that, etc.
Then, use a structured outline like the one I will share with you below to organize your content well.
Speed Blogging Tips Structured Blog Post Outline Made Easy
And when you are done, go through and give it a few quick touch ups and then promote it to your list and to your social media friends and followers!

First off, here is a great example of a structured order post with promotional links that you can embed within it.
You can learn a lot from this post!
Let's Start Off Today's Training with an Example of a Simple Structured Post Outline…
[Intro Paragraph Goes Here]
1. Your First Item Here
[Picture Goes Here]
[Paragraph Goes Here]
[Promotional Link Goes Here]
2. Your Second Item Here
[Picture Goes Here]
[Paragraph Goes Here]
[Promotional Link Goes Here]
3. Your Third Item Here
[Picture Goes Here]
[Paragraph Goes Here]
[Promotional Link Goes Here]
Summary:
[Summary Goes Here]
[Call to Action Goes Here]
Now, Let's Take it Further by Breaking Down the 6 Main Elements of a Structured Post Outline…
Element of Speed Blogging Tips Structured Blog Post Outline
This is just an example of a structured outline. But it works very well. The key is to make all of the numbered items very similar and follow a pattern so that you can write your posts very quickly.
Get the structured content out of the way first before your "inner perfectionist" starts taking over! Speed Blogging Tips Structured Blog Post Outline
Now, let's break down the 6 main parts of this structured outline.
1. YOUR INTRO:
This is where you grab the readers attention. You should clearly explain what they are going to learn in the post, so that they know they have arrived at the right place. Remember, most people just skim through posts so keep it brief.
2. YOUR ORDERED LIST:
Don't think to hard about it. Just break down your topic into a numbered list of some kind. 5 ways to do this, or 11 ways to do that. When you break your content up like this, it makes it easy to read, and easy to learn from. Generally speaking, you should use H2 tags on your ordered list. If you don't understand that, just Google it.
3. YOUR PICTURES:
Most of the time you can grab these from Google Images, unless it's copyright protected stuff. Here are some quick picture tips. When saving pictures to your desktop, rename them, with more relevant titles. Then upload them to your blog, and change the width of the pictures to 100% and leave the height empty. This will automatically fit them across the page. Or make them all 80% to leave a little room. Keep it simple and structured!
4. YOUR PROMOTIONAL LINKS:
Do this last. When you are all done with your article, throw a few "Bonus Links" throughout your post. If you have a lot of posts to promote, then do one bonus link per numbered item. Or every other numbered item.
5. YOUR SUMMARY:
This is where you summarize the takeaway from your article and bring closure to it. This section should be short and straight to the point. Ultimately it should bring everything together and make it easy to understand.
6. YOUR CALL TO ACTION:
This is easily the most important part of your entire blog post! You should have a specific plan for what you want your readers to do next. Hopefully it's to opt-in to your email list so that you can follow up with them.
Is this starting to make sense?
More Explanation from Facebook!
Here is another way that I explained it recently in a comment on my Facebook profile:
(which you should subscribe to right now if you haven't yet)
(turn on images in this email and click the picture below)
Below is Chris Record's Blogging Tips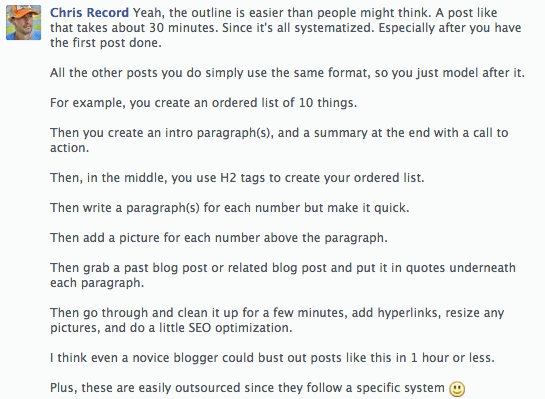 Summary and Related Resources
In summary, this is just one of many blogging styles that you can use.
For me, this works great because I want to quickly put out content on several different websites and keep them active, while at the same time getting great results in Social Media and in Google.
So a structured outline was the solution I was looking for.
Hopefully it's a great solution for you as well!
BONUS
: Did you have a chance to get your hands on the
Facebook Fan Page Method
training that I shared with you earlier?
Arthur Tubman has just updated all of the training there and it's fantastic.
I highly recommend it.
Take a moment right now to go back and check it out by clicking the link below:

Final Thoughts on the Importance of Primary Motivating Factors to Fuel Our Business
I hope you have enjoyed the value that I have created in this email.
I thought I would leave you with a picture of me and my son Rayden when he turned 7 months old.
One of my main motivating factors to learn these internet marketing techniques is so that I can work from home and spend as much time with my family as possible.
I hope that you harness your motivating factors as well, and create massive success for yourself this year!!!
P.S.
– If you are looking for a way to create additional income online this year, then I highly suggest that you join directly with me in
Empower Network
right now, so that you can get access to bonus training modules, tons of support, and extra tools and resources that I can provide with you to help you have success.
Let's team up and do some business this year!
::::::::::::::::::::::::::::::::::::::::::::::
BEFORE YOU LEAVE
P.S. If for whatever reason you to learn more secret Ways To Increase Your online Profits Almost Instantly; still need to become a member of the Empower Network, you can do that here or Big Idea MasterMind Team you can do that here If you need to see what we are all about, then watch this free video. If you are in, get serious about your business and find a way to get all in.